Last weekend, I went skiing with my family.
Midday, I popped inside the ski shop to buy myself some toe warmers (women's feet do get colder than men's), and stumbled upon an eye-catching ski sweater.
The vintage illustration of gondolas and mountain amusement drew me in.
I immediately coveted it.
So I snapped a picture to spark my memory – the $150 price tag and beckoning slopes kept me from buying it on the spot.
This baselayer zippie by Neve Designs is the perfect statement piece for schussing down the slopes and the après-ski bevy at the lodge.
The sporty print would be so fun to wear.
Now that I have a weekend of skiing under my belt (after an eight-year hiatus), I want to step up my Alpine style.
I'm on the hunt to find one (maybe two?) to sport next season. I'm keeping my eyes peeled this spring, so I can snag an end-of-season deal.
How cute would this be on the hill!:
or this one: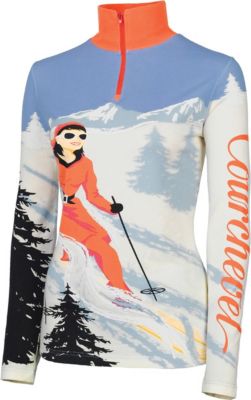 or this one:
What do you think? Do you have a favorite statement piece when you ski?
Ciao for now.
P.S. I bought the third option on eBay for $62. New with tags on. Score!